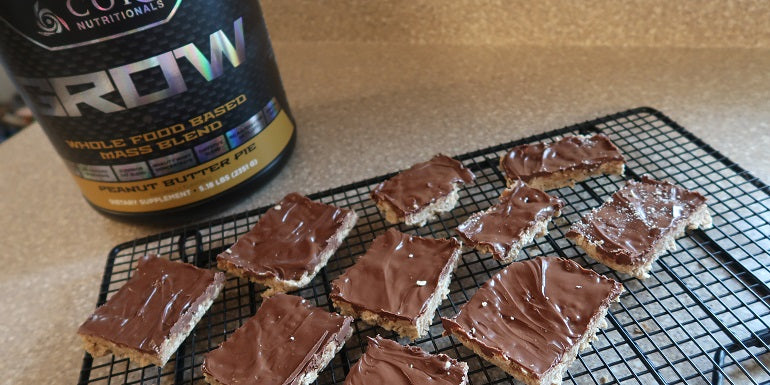 A protein recipe makeover of a popular dessert scotcharoos are a favorite of many. This recipe is packed with peanut butter for all you peanut butter lovers out there. The original version has a lot of sugar, but our reformulated mass gainer GROW has the perfect sweet flavor already. You'll want to make a double batch of these!
Ingredients
4 T. (64g) peanut butter
½ cup corn syrup
1 T. butter
1 T. sugar
3 scoops (156.7g) Core GROW Peanut Butter Pie
1 cup (80g) quick oats
1 cup (26.4g) rice krispies cereal
½ cup milk chocolate chips
1 T. (16g) peanut butter
Directions
Melt peanut butter, corn syrup, butter and sugar in small sauce pan over medium heat until just bubbling. In a bowl, mix GROW protein, quick oats and cereal. Add melted peanut butter mixture and stir to combine. Spray an 8x8 baking dish with non-stick cooking spray. Press mixture in bottom of pan. In a microwave safe bowl, melt chocolate and 1 T. peanut butter. Spread over bars and let set until chocolate is firm.
Macros
Serving Size: 1 bar
Servings: 9
278 calories
10g Fat
40g Carbohydrates
7g Protein