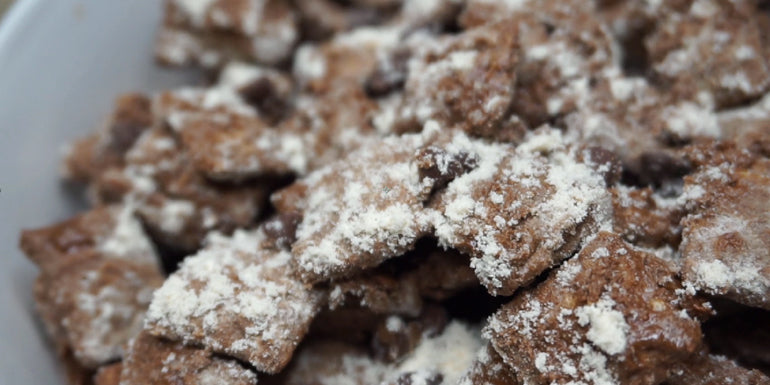 Try out this super easy protein puppy chow recipe! Or are you a muddy buddy person? Whatever you call this delicious treat you'll be happy you made it! Only 5 ingredients!!
For a quick review of the ingredients and directions, scroll down and watch the short video near the bottom of the page. Otherwise, continue reading from here for a more detailed look including step-by-step instructions and a breakdown of the ingredient list.
Ingredients: 
3 cups of Chex mix cereal

1 scoop Peanut Butter Toffee PRO

1 scoop death by chocolate protein powder
Directions:
1. In a small microwave safe bowl, add the chocolate chips and peanut butter.
2. Microwave for 15 second increments, stirring each time until melted and well combined.
3. Add Chex cereal to a large bowl. Pour the chocolate mixture over the top.
4. Stir gently until the cereal is evenly coated.
5. Let your mixture cool. Add protein powder and mix gently until evenly coated.
6. Enjoy!

*If there are pools of chocolate you can add additional cereal or extra protein powder*
Nutrition:
Serving size = 100g
132 calories, 6.8g Protein, 14.8g Carbohydrates, 5.4g Fat
*makes approximately 10 servings*
Remember to stay tuned for our upcoming blog posts, where we'll delve into the science behind these bars, discuss the importance of balanced nutrition, and provide expert tips and tricks to optimize your fitness routine. Get ready to elevate your fitness game with our milk and cereal bars – the ultimate fusion of convenience, flavor, and nutrition!