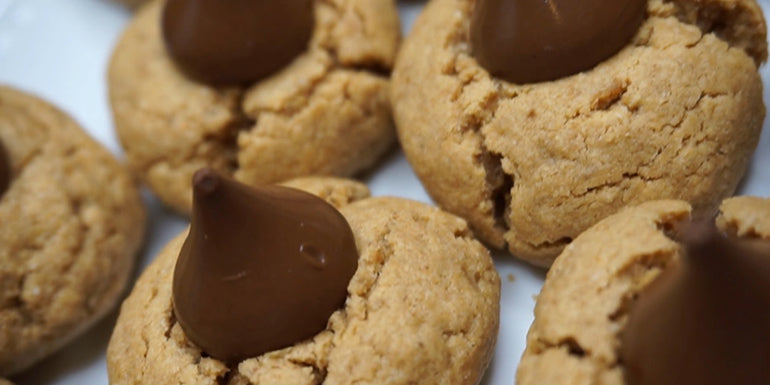 It's time for another Crush It Cafe recipe video! With yet another holiday fast approaching in Easter, it can be difficult to resist temptation with all the sweet, fatty and salty treats floating around. However, just because some of these treats aren't great for your diet doesn't mean you need to stop eating sweets - especially when you can pack them full of protein!

For a quick review of the ingredients and directions, scroll down and watch the short video near the bottom of the page. Otherwise, continue reading from here for a more detailed look including step-by-step instructions and a breakdown of the ingredient list.
Ingredients:
2 scoops Core Vanilla ISO Protein Powder

2 tbsp PB2 or powdered peanut butter

1/4 cup stevia or other sweetener

3/4 cup creamy peanut butter


1 large egg, at room temperature


Approximately 16 Hershey kisses, unwrapped


Optional Coating - 1/4 cup turbinado sugar
Directions:
1. Preheat oven to 350 degrees.


2. In a large bowl, combine all ingredients until dough forms.


3. Scoop and shape dough into 1 inch balls (for more traditional peanut butter blossoms, roll balls in turbinado sugar in a shallow bowl). On non-greased cookie sheet, place balls about 2 inches apart.


4. Bake for 10-14 minutes or until edges are light golden brown or have a slightly cracked appearance. Immediately press 1 Hershey kiss in the center of each cookie. Be sure to not press too hard but far enough for the chocolate to stick to the cookie. Remove cookies to cooling rack.

*If you notice your chocolate is melting, you can place cookies on the cookie sheet in freezer for 10 minutes*


Nutrition:
Serving size = 1 cookie
150 calories, 8g Protein, 7g Carbohydrates, 10g Fat
*makes approximately 16 servings*
Remember to stay tuned for our upcoming blog posts, where we'll delve into the science behind these bars, discuss the importance of balanced nutrition, and provide expert tips and tricks to optimize your fitness routine. Get ready to elevate your fitness game with our milk and cereal bars – the ultimate fusion of convenience, flavor, and nutrition!