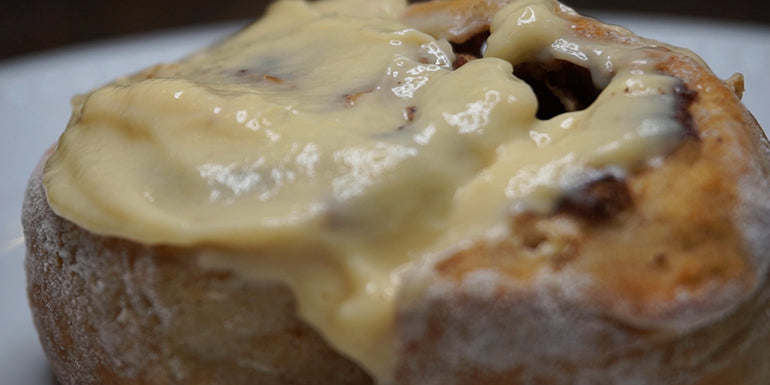 What's better than waking up to warm, fresh out of the oven cinnamon rolls?! How about some healthy, macro friendly, protein packed homemade cinnamon rolls pulled fresh out of the oven?
For a quick review of the ingredients and directions, scroll down and watch the short video near the bottom of the page. Otherwise, continue reading from here for a more detailed look including step-by-step instructions and a breakdown of the ingredient list.  
Ingredients - Rolls:
200g Greek Yogurt
2 tbsp butter, melted
1 tsp vanilla extract
1 1/2 cups flour
2 scoops Core PRO Cinnamon French Toast or cinnamon roll protein flour
1/2 tbsp cinnamon
Ingredients -
 

Filling:
2 tbsp butter, melted
2 tbsp cinnamon
2 tbsp stevia
Ingredients -
 

Frosting:

 
Directions:
1. Preheat oven to 350 degrees.
2. In a medium sized bowl, combine Greek yogurt, butter and vanilla extract. Add all dry dough ingredients to the bowl. Mix until a dough begins to form. Do not overwork the dough.
3. Place dough on a floured surface. Roll out using a rolling pin to make a rectangle.
4. Brush melted light butter onto the dough. Sprinkle with cinnamon sugar mixture.
5. Roll dough lengthwise. Cut into 8 equal rolls. You can trim off the ends to get more perfect cinnamon rolls, or leave them like I did.
6. Place cinnamon rolls in a small baking dish sprayed with nonstick spray. Bake at 350F for about 18-22 minutes.
7. While baking, mix all frosting ingredients in a small bow. Once cinnamon rolls are baked, drizzle icing over top while still warm.
8. Enjoy some warm tasty goodness! 
Nutrition:
Serving size = 1 roll with frosting: 185 calories, 10g Protein, 21g Carbohydrates, 6g Fat
*Recipe makes approximately 8 servings* 
Remember to stay tuned for our upcoming blog posts, where we'll delve into the science behind these bars, discuss the importance of balanced nutrition, and provide expert tips and tricks to optimize your fitness routine. Get ready to elevate your fitness game with our milk and cereal bars – the ultimate fusion of convenience, flavor, and nutrition!