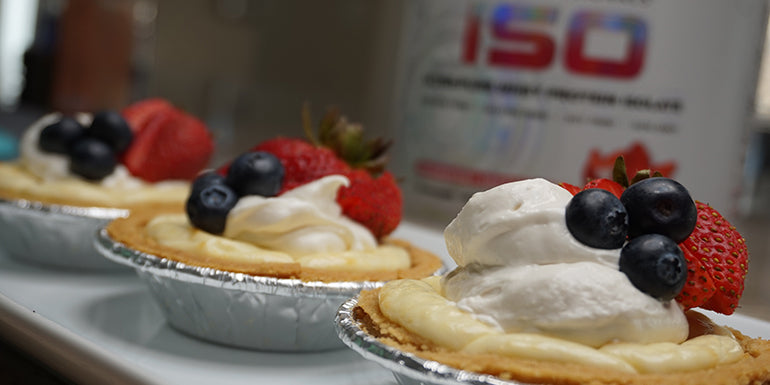 Try out this super festive, easy, and delicious mini protein strawberry cheesecake recipe. Each mini cake is jam packed with protein and loads of flavor. The crunchy graham cracker crust pairs perfectly with the rich and creamy strawberry cheesecake filling. Topped with berries and whipped cream, this gives this cheesecakes a sweet and tangy finish. A perfect treat to satisfy anyone's dessert craving!
For a quick review of the ingredients and directions, scroll down and watch the short video near the bottom of the page. Otherwise, continue reading from here for a more detailed look including step-by-step instructions and a breakdown of the ingredient list.
Ingredients: 
8 ounces fat free cream cheese, softened

1/2 cup lowfat, plain Greek yogurt

1 tablespoon vanilla extract

1/2 cup egg whites

1 scoop Core Nutritionals Strawberry Shortcake ISO
Directions:
1. Preheat oven to 350 degrees
2. In a large bowl, blend yogurt, vanilla, stevia, cream cheese, and egg whites.
3. Stir in protein powder.
4. Pour cream cheese mixture into mini pie crusts.
5. Bake for 12-15 minutes.
6. Allow cheesecakes to cool for 15-30 minutes.
7. Top with cool whip and fruit (optional).
8. Enjoy!

 
Nutrition:
Serving size = 1 mini cheesecake w/o toppings
103 calories, 13g Protein, 6.6g Carbohydrates, 1.6g Fat
*makes approximately 6 servings*
Remember to stay tuned for our upcoming blog posts, where we'll delve into the science behind these bars, discuss the importance of balanced nutrition, and provide expert tips and tricks to optimize your fitness routine. Get ready to elevate your fitness game with our milk and cereal bars – the ultimate fusion of convenience, flavor, and nutrition!