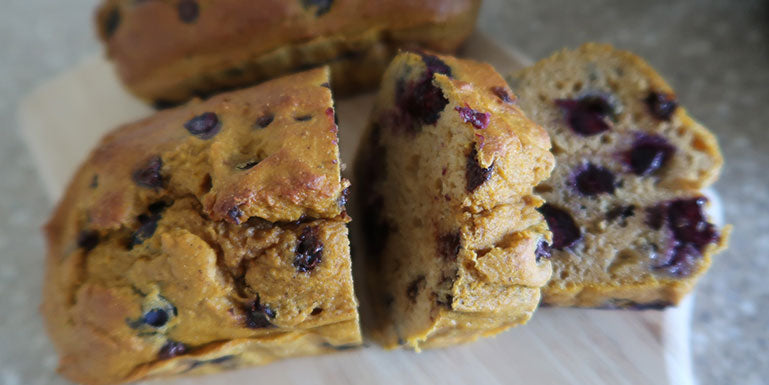 The Legendary Meaty Loaf is a perfect on-the-go meal option with endless possibilities! Switch up the flavors of MRP or PRO with different add-ins to create a tasty protein baked treat and adjust the macros. You can also add them to your meal prep and load up for the week! They can be frozen and store well in the refrigerator for up to 7 days in a Tupperware or wrapped in foil.
Ingredients
140g (1/2 cup) pumpkin puree
1 whole egg
10g Core Nutritionals PRO (any flavor)
2 scoops (69g) Core Nutritionals MRP (any flavor)
½ tsp. baking powder
Dash of cinnamon and salt
50g blueberries
14g mini chocolate chips
Directions:
Preheat oven to 375 degrees. In a small bowl, combine pumpkin puree and 1 egg until thoroughly mixed. Add dry ingredients. Fold in chocolate chips and blueberries. Bake for 35-37 minutes until lightly browned.
Notes: You can use the same recipe split into muffin tins for more of a snack or treat option with fewer macros. For muffins, adjust baking time to 12-15 minutes.
Macros:
Serving Size: 1 whole loaf
513 calories
13g Fat
55g Carbohydrates
44g Protein