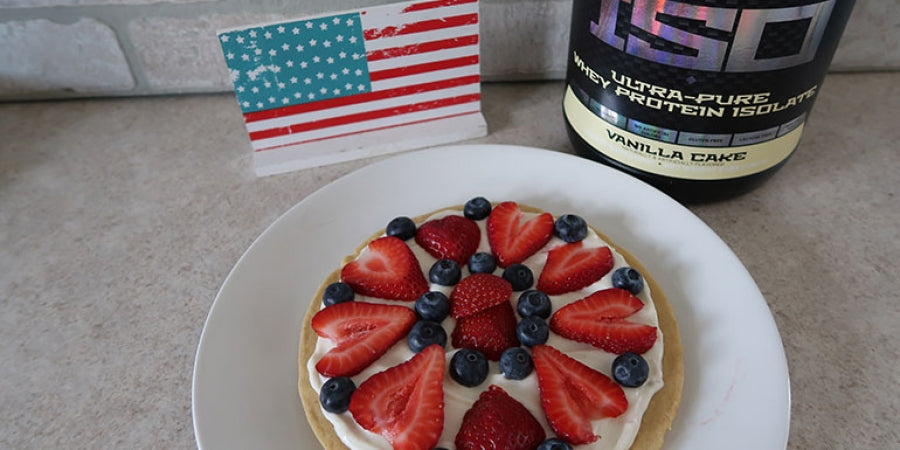 All pizza is delicious, but fruit pizza is a dessert staple. We created a healthier version of the traditional recipe using our vanilla cake ISO which gives this fruit pizza a fantastic flavor. Top with berries for a festive dessert you can serve on the 4th of July or Memorial Day.
Ingredients
1 whole egg
¼ cup (56.5g) fage total 0% Greek yogurt
1 T. (21g) honey
½ tsp.vanilla extract
1 T. no calorie sweetener
¼ tsp. salt
1 scoop (28g) Core ISO Vanilla Cake
1/3 cup (40g) oat flour
Directions
Preheat oven to 350 F. Mix crust ingredients in listed order until smooth. Spray a 9" round pie pan with non-stick cooking spray and smooth batter into pie pan. Bake for 12-14 mins until just baked. (Don't bake too long or edges will become hard). Let cool while you prepare the toppings.
Sauce
¼ cup (56.5g) Fage 0% Greek yogurt
1 oz (28g) light cream cheese
1 T. stevia or no-calorie sweetener
14g (1/2 scoop) Core ISO Vanilla Cake
1 T. almond milk
Mix cream cheese with sweetener until smooth then add greek yogurt. Alternate adding protein powder and almond milk, stirring well. Smooth over crust once cooled. Slice berries and arrange on top.
Macros
Serving Size: ¼ pizza
Servings: 111 calories
3g Fat
14g Carbohydrates
7g Protein