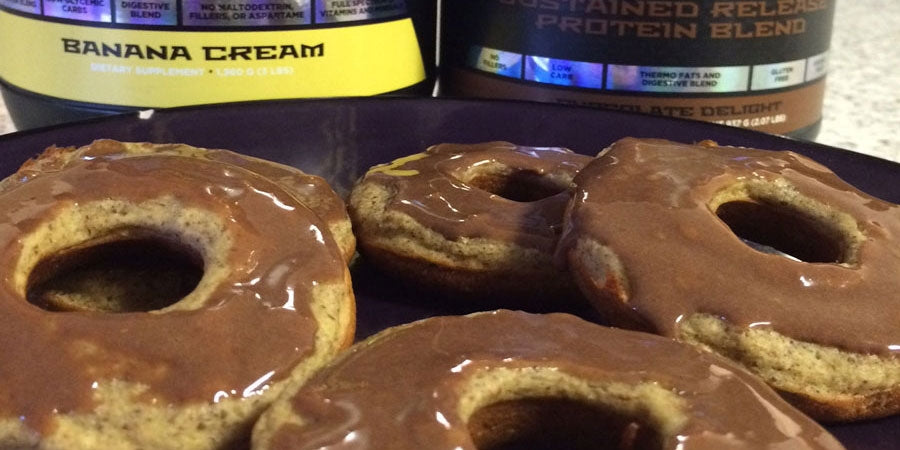 You'll rarely see a banana-flavored doughnut at your favorite doughnut shop; rarer still a low calorie one. We decided to knock out two birds with one stone by creating a delicious Banana Cream MRP donut.
Top it with Chocolate Delight PRO glaze for additional protein and flavor, and you've got yourself delicious donuts that won't blow your diet.
Ingredients
Dry Ingredients:
2 scoops Banana Cream MRP
1 tbsp wheat germ
14g coconut flour
14g flaxseed
1/4 cup zero calorie sweetener
1 tsp baking powder
½ tsp baking soda
½ tsp cinnamon
½ tsp salt
Wet Ingredients:
2oz water
10g softened coconut oil
Chocolate Delight PRO Glaze
½ scoop (16g) Chocolate Delight Core PRO
~3 tbsp water
Directions
Preheat oven to 350° Fahrenheit. Place ground flaxseed into a small bowl and mix with 1 tbsp of water and set to the side. Purée or mash bananas well with a fork. Combine wet ingredients with the moistened flaxseed and bananas. Combine all dry and wet ingredients together and mix well. Spoon batter evenly among wells in a doughnut pan (will fill approximately eight wells). Bake for 10-12 minutes. Remove and let cool briefly before glazing. Enjoy!
Macros
Serving Size: 1 Doughnut  
Servings: 8
85 calories
1g Fat
12g Carbohydrate
6g Protein