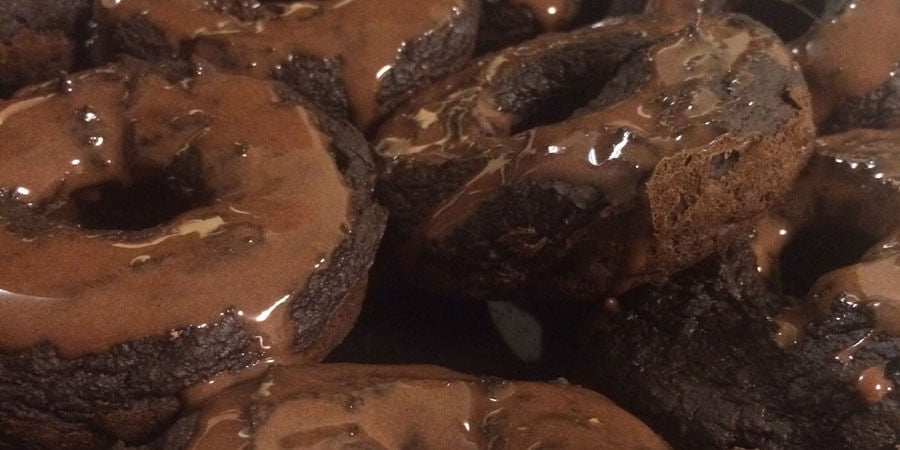 On your way home from work you walk past the bakery that always has fresh donuts staring at you with their one eye, waiting for you to walk in and buy it—and its 11 friends. The only thing stopping you is knowing that the average donut contains over 350 calories and comes filled with saturated fat and refined sugar. Still, the temptation is real and donuts are delicious.
We feel your pain and share the struggle; so to do us all a favor we've created a chocolate cake donut recipe using our Rich Chocolate Core MRP. Iced with a Vanilla Cream Core PRO glaze, this low calorie donut is packed with plenty of nutrients and flavor!
Ingredients
Dry Ingredients:
2 Scoops Rich Chocolate MRP
14g Coconut Flour
1 cup zero calorie sweetener
1 tsp baking powder
1 tsp baking soda
½ cup cocoa
½ tsp salt
Wet Ingredients:
1 cup canned pumpkin
14g ground flaxseed
100g egg substitute
1 teaspoon Vanilla
¼ cup (1%) milk
¼ cup water
Icing Option #1 (Vanilla Cream PRO Icing):
1 scoop Vanilla Cream Core PRO
2 tbsp zero-calorie sweetener
~6 tbsp water
Icing Option #2 (Chocolate Delight PRO Icing):
1 scoop Chocolate Delight Core PRO
2 tbsp zero-calorie sweetener
~6 tbsp water
Directions
Preheat oven to 350° Fahrenheit. Combine ground flaxseed with 1 tbsp water and set aside to moisten. Combine dry ingredients. Combine wet ingredients, adding in the moistened flaxseed and mixing well. Combine dry and wet ingredients together and mix well. Spoon donut batter evenly among wells in a doughnut pan (will make roughly eight donuts). Bake for 10-12 minutes and let cool for 10 minutes before glazing, then enjoy!
Macros
Serving Size: 1 Slice  
Servings: 8
53 calories
1g Fat
5g Carbohydrate
6g Protein