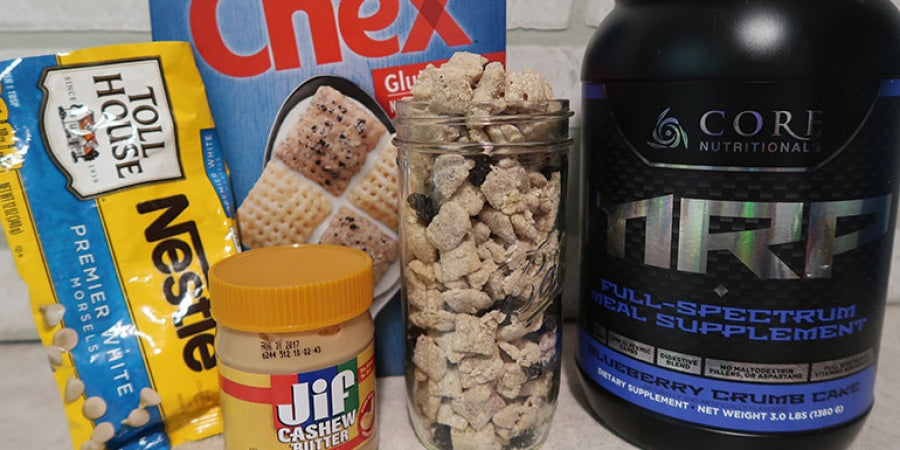 Puppy chow or muddy buddies is the ultimate kid snack! Smothered in chocolate, butter and covered with sugar; it's the perfect storm for derailing your diet. Our healthier version, exchanges a scoop of protein powder to cover the chow instead of powdered sugar and reduces the amount of chocolate used. With 6g of protein per serving and amazing blueberry flavor –this will surely be your new favorite treat!
Ingredients
2 T. (32g) Cashew Butter
6 T. (84g) White Chocolate Chips
4 servings (120g) Blueberry Chex Cereal
1 scoop (32g) Core MRP - Blueberry Crumb Cake
*Optional –1 T. dried blueberries (not included in macros)
Directions
In a microwave safe bowl, place cashew butter and chocolate chips. Melt in microwave, stirring every 30 seconds. Add blueberry chex cereal and stir with spatula (don't use a spoon or you will crush the chex!). Add 1 scoop of protein powder and stir to coat or place in a ziplock bag and shake. Fold in dried blueberries if desired. Store in an airtight container.
Macros
Serving Size: 1 serving
Servings: 297 calories
13g Fat
39g Carbohydrates
6g Protein