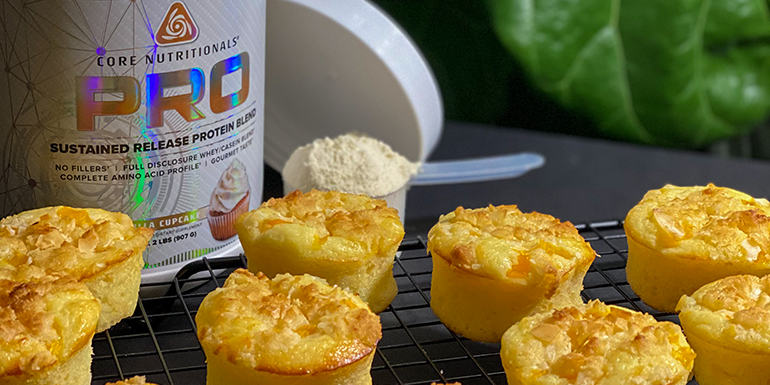 Ingredients:
Cake Batter:
3 scoops core pro frosted vanilla cupcake
182g gluten free baking mix (we used "LiveGFree Yellow Cake Mix")
1 can of peaches in extra light syrup
250g fat free greek yogurt
2 eggs
60g Lakanto monk fruit sweetener
2 Tbs vanilla extract
Pinch of salt
60g water
Topping
30g room temperature butter
30g of gluten free baking mix
25g unsweetened shredded coconut
20g Lakanto monk fruit sweetener
Pinch of coarse pink Himalayan salt
Directions:
Preheat your oven to 350°F
Drain the can of peaches and chop into small pieces. Divide in two halves, one for the batter and set aside other half for the topping.
Add wet ingredients to a medium-sized bowl. Mix until smooth. (2 eggs+ 550g yogurt+ vanilla extract+ 60g monkfruit sweetener)
Stir together dry ingredients in a separate bowl. (3 scoops of Core PRO + 182g baking mix + pinch of salt)
Combine wet and dry ingredients in a large bowl and add half of the chopped peaches. The consistency should be like pancake batter. Add the 60g of water slowly until you reach that consistency.
Combine topping ingredients. (30g room temp butter + 30g yellow cake mix + the 25g shredded coconut) Work with your fingers until it feels like wet sand. Set aside.
Pour the batter into a baking tray lined with parchment paper then sprinkle the topping on top with your fingers as even as possible. Finish it off with a very light touch of coarse pink salt to bring out the flavor.
Bake for 15 mins at 350, or until a tooth pick comes out almost clean. Remove from oven when it's still moist and about 95% cooked.
Switch the oven to broiler for 1 min until the topping gets blonde.
Remove from oven and let rest before cutting into 12 squares.
Macros for 1 piece:
5g Fat, 20g Carbs, 10g Protein.
For the baking mix, you can also make your own by combining 100g of rice flour, 100g of potato starch, 2g Xanthan gum, 5g of baking powder.
Remember to stay tuned for our upcoming blog posts, where we'll delve into the science behind these bars, discuss the importance of balanced nutrition, and provide expert tips and tricks to optimize your fitness routine. Get ready to elevate your fitness game with our milk and cereal bars – the ultimate fusion of convenience, flavor, and nutrition!