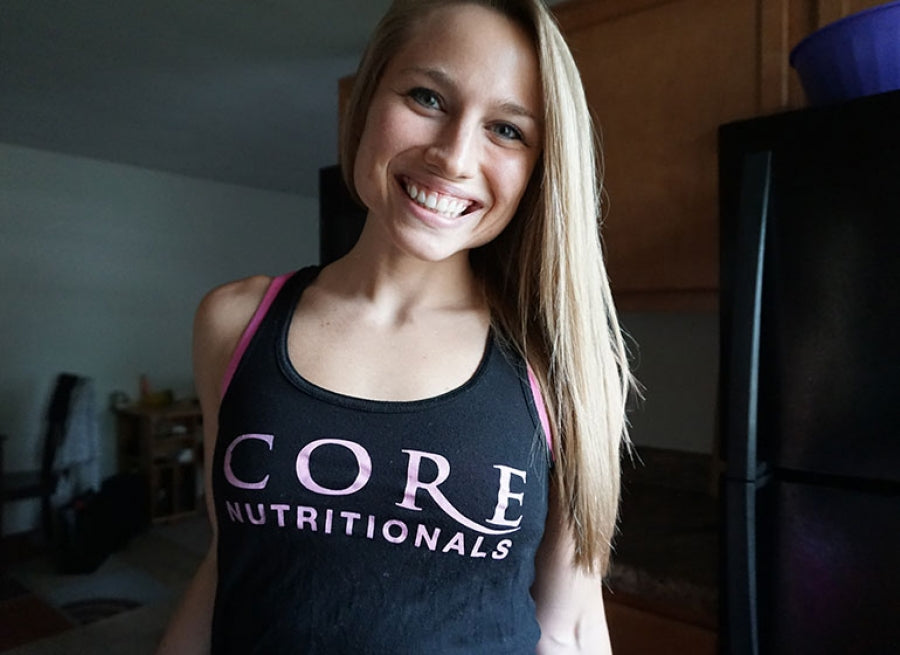 My name is Maddie Huprich and I am one of the newest female additions to the Core Nutritionals team. I am a natural figure athlete and a graduate student at the University of Cincinnati enrolled in the Master of Science in Nutrition program.  A year ago this month marks a point in which I made some of the biggest decisions of my life that have led me to where I'm at today.
Last spring I graduated with my Bachelor of Science in Nursing degree – something I thought I had always wanted. Somewhere between the 12-hour shifts and extended clinical hours, however, I realized I was not pursuing the life I had envisioned for myself. I had perfect grades, was succeeding at my job as a nurse aid, but I wasn't happy. I pushed through the remainder of school and the day after passing state boards to become a Registered Nurse, walked down the street to a local retail store and asked if they were hiring. Two weeks later, I had accepted a part-time position working for them and enrolled in classes for the upcoming semester. I didn't know exactly what I was doing with my life, but knew I was on track to creating a life that would bring me happiness.
Fast forward to today. I am a full-time graduate student, work as a formulation specialist at a local sports nutrition company, hold the same retail position, and am a representative for Core Nutritionals. Nothing about my busy schedule screams that this is an ideal time to be on contest prep. However, through all of the changes that have taken place, the one thing that has been a constant is my passion for training and my desire to compete. This blog series will serve as documentation of my contest prep for upcoming fall figure shows. I will be sharing everything nutrition and training related, as well as how I am handling everything mentally. More than anything, I hope this series inspires others to make changes in their life and follow what they are passionate about!