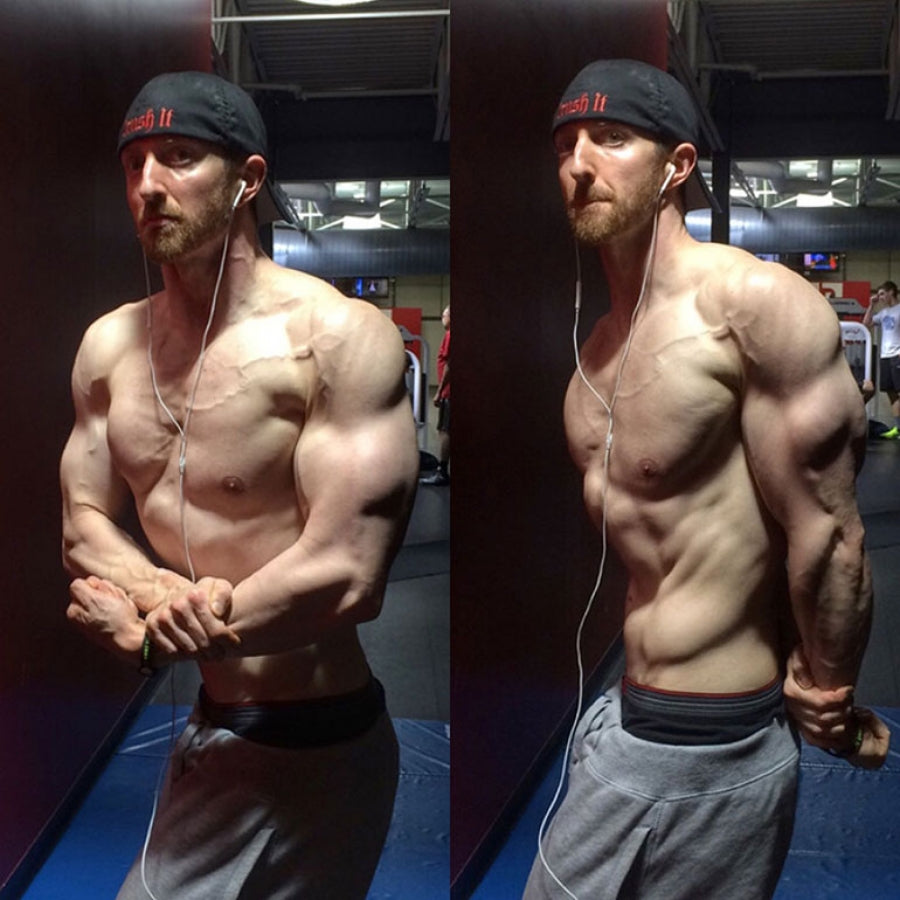 In today's fitness industry social media allows us to have a look inside the process and journey of everyone. We can check out Facebook, Instagram, Snapchat and any number of other apps to follow along with our favorite bodybuilders and find out exactly what supplements they are taking.
It seems that everyone these days is angling for a sponsorship from someone. Check out the hashtags on someone's Instagram post and you'll usually find the supplement company they are looking to impress. With literally hundreds of thousands of people eyeing a sponsorship how do you set yourself apart? How do you get one of those few spots to represent a company? I may not be an expert on the subject, but I've been sponsored by Core Nutritionals for nearly 4 years now, and I have helped many of my clients earn sponsorship spots with other companies so I think I might be able to give some insight into what it really takes to get sponsored.
WHAT IS A SPONSORSHIP?
First thing first, it is important to know the difference between a sponsorship, being a product rep, and being involved in a sales program. Right now it is common for supplement companies to have a lot of people in sales programs and reps but call them sponsorships, but these aren't actually sponsorships in the traditional sense. Here are the differences.
Brand Reps- This usually involves sales. As a brand reps you will likely get free supplements similar to that of a sponsorship athlete, but it would also involve making sales to supplement stores and gyms. Meaning you would have to reach out to gyms and supplement stores to try to get them to carry the company's products. This can be very good if you are good at sales and selling in general.
Sales Program- This is where you are given a link that is made just for you. This is where you can send people to go and buy the company's products. The company will then track how much product people are buying from you, and your link. The amount of free products and/or pay you receive will be based on a percentage of how much you sell. This can actually be an extremely good deal if you are good at selling. The main difference between this and a brand rep is that when you are a brand rep you sell to, and manage the accounts of retailers but when you are involved in a sales program you sell directly to consumers through your link.
Athlete Sponsorship- This is what most people think of when they think of a typical sponsorship. This is when you have a large enough following, notoriety, and name that the company gives you free product and/or payment to be associated with you and have you endorse their products. This arrangement means that people already listen to what you have to say and therefore it is easy for you to recommend products to large numbers of people at once.
WHAT DO COMPANIES LOOK FOR?
There are a lot of things that supplement companies look for in their athletes and their reps.  When a supplement company is considering whether or not to sponsor someone they will ask two questions.
How will this person help us sell supplements?
How many people listen to what this person has to say?
This all comes down to making your mark in the industry and getting people to follow you. Here are some things you can do to increase your following.
Create a forum log on at least two larger forums. (bodybuilding.com, anabolicminds.com, muscleandstrength.com, etc). Allow people access to your training, diet, and life.
Use your social media such as Facebook, Instagram, Snapchat, etc. sort of like a log. Post progress pics, list your workouts from time to time. Write posts and post pictures that people will want to read and see.
Have professional photos of yourself in contest shape. Supplement companies can't sponsor someone if they can't put up pictures of them that looks good.
Create a "bodybuilding and fitness resume". This should include anything that is worthy of note in your bodybuilding career. This includes placings, articles, interviews, forum logs, magazine spreads, degrees, certifications, etc. Anything that can show a company that you are accomplished and people will listen to what you have to say, should go on this resume.
Once you feel you have enough on your resume or enough to offer. Make a list of every supplement company that you would feel proud to represent. Then you should send your pictures and your resume to them. Make sure to let them know your intent that you would love to represent their company.
Vlogs and Blogs are both very big. If you feel up to it this is another good opportunity to get your face and name out there.
THE MOST IMPORTANT THING IS THAT IN ORDER TO BUILD A FOLLOWING YOU MUST OFFER ONE OF THE FOLLOWING:
KNOWLEDGE/ EDUCATION
MOTIVATION/ INSPIRATION
ENTERTAINMENT
IF YOU ARE NOT OFFERING SOMETHING THAT IS OF VALUE TO THE AVERAGE FITNESS ENTHUSIAST THEN THEY HAVE NO REASON TO FOLLOW YOU. NEVER FORGET THAT.
THINGS TO REMEMBER
THIS IS A BUSINESS
A supplement company is a business first and foremost. They will not give free supplements to a sponsored athlete unless they know that this person can help them sell supplements. You need to prove to them that you would be a value to them. If they are going to give you items which cost them money you need to think of how you will make them money in the long run. It is only fair. A sponsorship is a job, you sell supplements and they pay you for it. 
I can't tell you how often I see someone win a bodybuilding show and then get upset when they aren't offered a supplement sponsorship. This is like earning your college degree and then sitting back and waiting for employers to knock on your door. Just because you have a degree doesn't mean you'll make a good employee. You have to go out and show companies that you are worth hiring. A degree will help you get a job just like bodybuilding title will help you get a sponsorship, but it is far from the only thing that matters.
YOU ARE NOT SPECIAL
Not to sound harsh, but there are many, many pros out there. There are thousands of people that win titles and place well. Even top level professional competitors have trouble getting sponsors. You need to keep in mind that it is not what you look like that matter most. While winning titles and looking amazing does help, the biggest thing that matters in a supplement companies eyes are "how can you help sell supplements". The best way to do this is to build a following. If people listen to what you have to say, then you can surely sell supplements. So more than anything, you need to build a following. Winning titles doesn't help with getting sponsored, winning titles can help you build fans and followers, which then leads to a sponsorship.
BUILD A FOLLOWING, BUILD A FOLLOWING, BUILD A FOLLOWING
I can't say it enough. The supplement company needs to sell supplement but you need to sell yourself to the supplement company. A good indicator to a supplement company of what you are capable of is how many people follow and interact with you. If you post on social media or a forum and are able to generate a lot of overall "buzz" then that is what they are looking for. This shows that people are listening to what you are saying, and following what you are doing.
YOUR SOCIAL MEDIA AND FORUM POSTS NEED TO BE INTERESTING AND UNIQUE
If you are posting the same memes as everyone else, or lots of the same clichés then this will not catch people's attention. Make sure that the content you post on your social media are of interest to people and not something they have seen over and over again.
ONCE YOU ARE SPONSORED
Keep in mind that a sponsorship is a job. You need to hold up your end of the bargain. If you stop pulling your weight and working hard, you will likely lose your sponsorship. Just like with any other job, after you get hired you can't just kick up your feet and collect a paycheck. You have to earn it.
You will need to be willing to attend functions, travel, and make appearances. Holding product demos and making public appearances is often a large part of being sponsored. You must be willing and able to do all of this.
Only work with a company you are proud of and believe in. Work on building a relationship with your sponsor. If they grow as a company, then any good company will compensate their athletes accordingly. A good sponsored athlete and company should grow in popularity and reputation together as they feed off each other.
More than anything, believe in what you endorse. Too many people "sell their soul" for a quick buck. Those people will not last because people will catch on to those that will seemingly try to sell them anything. Keep your INTEGRITY! That is too rare in this business unfortunately. I personally take a lot of pride in my sponsorship with Core Nutritionals because I believe in the products and the way they do business. That is honestly the most important tip I can give when looking for a sponsorship.