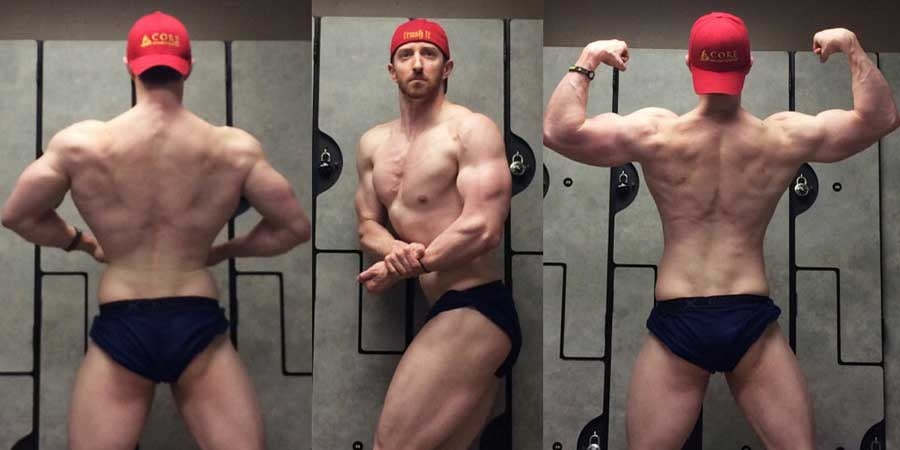 BODY WEIGHT AND CURRENT CONDITION
Another 3 weeks down and more progress was made in the right direction! These past 3 weeks have been a breeze to be honest. No travel, no sickness (like in my last log), nothing to really throw me off my schedule.
In my last log I left off with my weight at 186.3 lbs. In Week 19 I had a nice drop down to 185.3 lbs. This full pound drop was enough for me to just leave my plan the same and keep moving forward. In Week 20 I had an extremely good drop by losing 1.5 lbs. bringing me down to 183.8 lbs. This drop was so big in fact, that I almost considered adding carbs in to slow things down a bit. However, I had to remind myself of whether or not this is something I would do for my clients. The answer to that question was HELL NO! Haha! If I had a client in my exact situation I would continue driving forward since I still have a ways to go. So I left my plan the same.
In Week 21 I realized I made the right decision to not add food in because I had a weight rebound up to 184.2 lbs. This prompted me to make changes to my plan. For those keeping track, these were my first changes that I had to make to my plan in 5 full weeks. This is not bad at all as I was able to coast for quite a while.
NUTRITION + CARDIO
As I mentioned above, in Week 21 I had to make some changes to my plan. Here are my new macros below. 
Protein - 275g
Carbs -220g 
Fat - 55.5g 
I also have a high calorie day once every 7th day with these macros:
Protein -250g 
Carbs -450g 
Fat -60g
Here is the timing of my meals. These are subject to change if I need anything adjusted.
Meal 1 (upon waking) - P- 55   C-25   F- 12
Meal 2 (pre-training meal) - P- 55   C- 65   F- 12
Meal 3

 

(post training shake)

 

- P- 55   C- 20   F- 1
Meal 4

 

(post training meal)

 

- P- 55   C- 45   F- 10.5
Meal 5

 

(before bed)

 

- P- 55   C- 65   F- 20
CARDIO
I am still not doing any cardio, but it is getting damn close to that time.
TRAINING
In Week 19 took a full 3 days off from weight training before I started my new program. After 3 days off I felt rested and ready to get started on my new plan. The new program I am running is a version of something I have done in the past. It is a Cross Rep Progression plan where my reps at the beginning of each week will start low and build upward from week to week and will start high at the end of the week and drop lower each following week.
Here is the split that I follow right now:
Monday -

 

Chest, Delts, Triceps
Tuesday -

 

Back, Biceps, Traps
Wednesday -

 

Legs, Abs 
Thursday -

 

OFF
Friday -

 

Upper Body 
Saturday -

 

Lower Body 
Sunday -

 

Off 
Here is how things progress from week to week.
Week 1
Monday & Wednesday: 2-4 rep range
Friday & Saturday: 15-25 rep range
Week 2
Monday & Wednesday: 4-6 rep range
Friday & Saturday: 10-15 rep range
Week 3
Monday & Wednesday: 6-8 rep range
Friday & Saturday: 8-10 rep range
Week 4
Monday & Wednesday: 8-10 rep range
Friday & Saturday: 6-8 rep range
Week 5
Monday & Wednesday: 10-15 rep range
Friday & Saturday: 4-6 rep range
Week 6
Monday & Wednesday: 15-25 rep range
Friday & Saturday: 2-4 rep range
One phase of this plan takes 6 weeks but I usually run this through 3-4 times. Throughout the 6 weeks I will usually keep the exercises the same from week to week. This way I can try to add reps each week while doing my best to keep the weight high at the beginning sessions for the week. Then I can add weight at the latter part of the week as I reduce the reps. Keeping the same exercises is important so you can easily track progression and have a good idea of what load you should be using from week to week.
SUPPLEMENTATION
I have kept my usual supplements the same as listed below.
Core ABC (7 scoops per day)
Core ISO (as needed)
Core PRO (as needed)
Vitamin D (1000 IU daily)
Multivitamin (once daily)
Core Commodities Beta Alanine (1 scoop daily)
Core Commodities Taurine (2 scoops daily)
Core FURY Extreme (as needed but typically one full scoop)
Core PUMP (one scoop before training)
Core HMB (4 grams daily)
Fish Oil (2 capsules daily)
Core Commodities Creatine Mono (5 grams daily)
Core Commodities Glutamine (15 grams daily, primarily taken for immune health)
ADDITIONAL UPDATES AND THOUGHTS
This week I figured it would be a good time to talk about the fact that I went a full 5 weeks without touching a thing on my plan. I had some people asking me on Facebook why I was keeping my plan the same for so long and why didn't I plan phases of my prep. For example, they were wondering why I didn't plan a certain nutrition plan for 3 weeks at a time with a plan to change it for the next 3 weeks and so forth. My easiest response to that is "why make unnecessary changes?"
When it comes to prep it can be really easy to become impatient and always want MORE and FASTER. If we are making progress there is always a part of us that will think we can be doing something to speed it up. The truth of the matter is, if you are losing at an ideal pace for your body, and things continue at that pace then there is no need for anything to change.
So if you are a coach or you prep yourself always remember that if it is not broken, don't try to fix it. If things are going well, let it ride as long as you can.
Anyway, thanks for following along with my log! Next one should be coming soon!