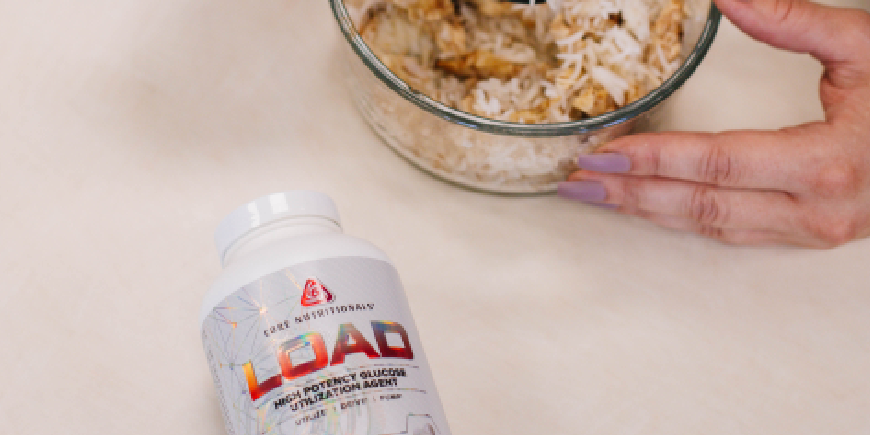 Are you tired of glucose disposal agents (GDAs) that fail to deliver the results you desire? It's time to discover the revolutionary power of Core LOAD, the game-changer in the world of GDAs. We have rewritten the rules and set new standards with our groundbreaking formula that targets multiple pathways and mechanisms through supra-clinical serving sizes.
Unlock the potential of your body's glycogen storage and experience the remarkable benefits that Core LOAD offers. Here's why every other GDA should bend the knee to our superior product:
Unparalleled Formula: Unlike other GDAs on the market, Core LOAD is not a single-pathway or single-mechanism formula. We have meticulously crafted a product that targets multiple pathways and mechanisms, providing you with comprehensive support for your glucose metabolism.

Optimal Serving Size: With a serving size of 6 capsules and 30 days in total per bottle, Core LOAD ensures you get the right amount of our powerful formula to maximize your results. We believe in carb-proofing your diet and helping you achieve your goals efficiently.

Surgical Precision: Core LOAD's key ingredients work synergistically to surgically target both glycogenic and lipolytic pathways. By increasing the translocation of GLUT4, the glucose transporter, and altering the function of critical biological messengers, we optimize your body's response to glucose ingestion at the cellular level.

Non-Redundant Mechanisms: While other GDAs may claim to target similar pathways, Core LOAD stands out by utilizing several ingredients that work through different non-redundant mechanisms such as GS4 Plus®, Green Coffee Extract, Berberis Aristata and Banaba Extract. We have left no stone unturned to ensure your body's glycogen storage is maximized, going beyond the limitations of single-ingredient approaches.

Chlorogenic Acid Powerhouse: Core LOAD incorporates CGA (chlorogenic acid) from green coffee extract, a key ingredient known for its impact on glucose homeostasis and glycogen formation. Our serving size of 2g is several times larger than what is found in clinical research, offering unparalleled effectiveness.
Now, let's address the question of why "disposing" of glucose is crucial. By using Core LOAD, you can achieve two vital outcomes: increasing lean tissue and avoiding non-lean tissue.
When you consume carbohydrates, your body breaks them down into glucose, which is then directed to cells for energy consumption. Core LOAD's powerful ingredients work to create glycogen, fueling your body like NOS does for a car. By maximizing glycogen storage, not only will you experience increased lean tissue and a fuller, more 3D look in your muscles, but you'll also discourage fat tissue creation. The more glycogen stored in your muscles, the less glucose is shuttled to adipose cells or the liver.
On the flip side, Core LOAD's unique formulation inhibits the storage of glucose in adipose (fat) cells. Our ingredients stabilize plasma glucose, diminishing uptake in adipose cells, and reduce the activity of key genes responsible for fat mass increase. With Core LOAD, you can take control of your body's energy storage and ensure it aligns with your goals.
By combining these two types of action, Core LOAD reigns as the undisputed king of GDAs. We boldly suggest that every other product bend the knee in the face of our remarkable formula.
It's time to experience the transformational power of Core LOAD and witness the difference it can make in your journey toward optimal health and fitness. Don't settle for subpar GDAs when you can have the best.
Order your supply of Core LOAD today and unleash the full potential of your glucose disposal and glycogen storage!