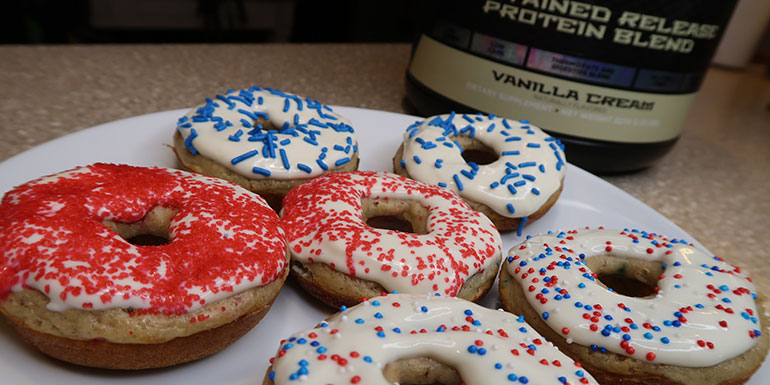 Everyone loves a good donut, but they are packed with sugar and high in fat. Our donuts have 10g protein in each one. Swap out the sprinkles and you can make them festive for any holiday or occasion.
Ingredients:
1 egg
½ T. (7g) coconut oil
1 tsp. almond extract
1 small container (111g) unsweetened applesauce
1 tsp. splenda
¼ tsp. baking soda
¼ tsp. salt
32.3g (1 scoop) Core Nutritionals PRO Vanilla Frosted Cupcake
20g Kodiak cakes buttermilk flapjack mix
¼ cup (23g) paleo flour
1 T. sprinkles
Directions:
Preheat oven to 325° F. In a small bowl, mix egg, coconut oil, almond extract, splenda and applesauce until smooth. Add dry ingredients – baking soda, salt, vanilla protein, Kodiak cakes mix, paleo flour and stir until smooth. Fold in sprinkles of your choice. Lightly spray a donut pan with nonstick cooking spray. Evenly distribute batter and bake for 8 minutes. Don't overcook or they will be dry! Remove donuts from pan and cool.
Frosting:
100g vanilla greek yogurt and 15g Core Nutritionals PRO Vanilla Frosted Cupcake In a small bowl, mix greek yogurt and protein powder. Stir in a dash of milk or water, mixing until smooth. Spread over donuts and top with sprinkles. Store donuts in refrigerator.
Macros
Serving Size: 1 donut
Servings: 6
108 calories, 10g Protein, 9g Carbohydrates, 3.4g Fat