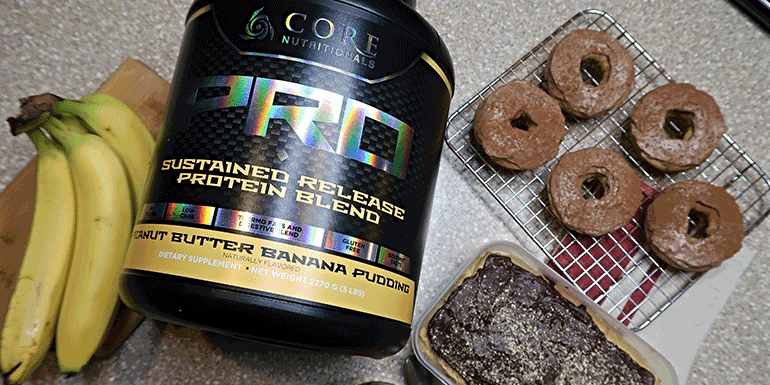 There's nothing like a donut, it's the ultimate sugary treat. We took our newest flavor of Core PRO and made it into a healthy recipe with 12g protein per donut!
Ingredients:
1 T. (16g) peanut butter
1 whole egg
1 tsp. vanilla extract
50g banana, mashed
¼ cup unsweetened almond or cashew milk
8g (1 serving) sugar free vanilla pudding mix
1 scoop (32g.3) Core Nutritionals PRO Peanut Butter Banana Pudding
¼ cup (23g) Bob's red mill paleo flour
1/8 cup (12.5g) almond meal flour
1/8 tsp. baking powder
Dash of salt
Frosting:
15g Core Nutritionals PRO chocolate delight
75g Fage total 0% greek yogurt
1T. no calorie sweetener
Directions:
Preheat oven to 325° degrees. In a small microwave safe bowl, melt 1 T. peanut butter. Add other wet ingredients: mashed banana, vanilla extract, almond milk and stir to combine. Stir in dry ingredients: protein powder, pudding mix, paleo flour, almond meal, baking soda, baking powder and salt. Lightly spray a donut pan and even spread batter into 5 donuts. Bake for 8-10 minutes until just set. Don't overcook or they will dry out! Place on a cooling rack to cool while you make the frosting.
Frosting
In a small bowl, combine greek yogurt and protein powder. Stir until smooth. If using a different brand of greek yogurt, frosting may be thinner. Once donuts are cool, spread frosting evenly over all donuts.
Top with banana slice or sprinkle with PB2 if desired (not included in macros).
Macros:
Serving Size: 1 donut
Servings: 5
132calories
5g Fat
9g Carbohydrates
12g Protein