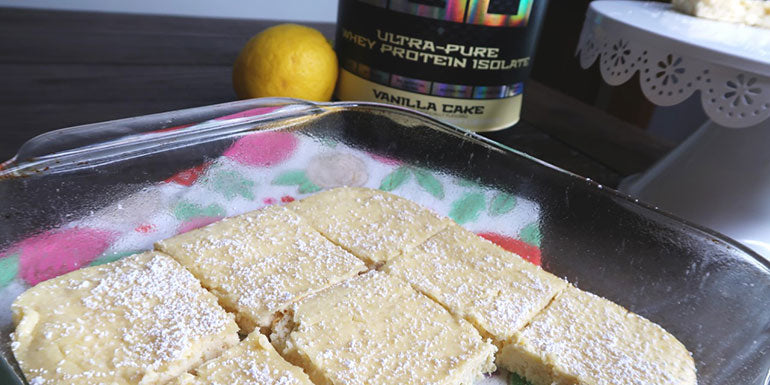 These bars are lightly sweet with a tart lemon flavor and cheesecake-like filling. Our vanilla cake whey protein isolate is the perfect base for these bars. One bar is almost 7g protein and makes a great sweet treat.
Ingredients:
4 T. (60g) light cream cheese, softened
½ cup (113g) non-fat vanilla greek yogurt
2 T. Splenda no calorie sweetener
1 whole egg
1 tsp. vanilla extract
¼ cup freshly squeezed lemon juice
Zest from one whole lemon
¼ tsp. salt
¼ tsp. baking powder
35g Core Nutritionals ISO Vanilla Cake
2 T. (14g) Bob's Red Mill super fine almond meal
1/6 cup (20g) oat flour
Directions:
Preheat oven to 325° F. In a medium sized mixing bowl, combine cream cheese, greek yogurt and Splenda. Stir to combine until smooth. Add egg and vanilla. Zest one whole lemon and juice it until you have about ¼ cup of juice. Sift dry ingredients: protein powder, almond meal flour, oat flour, baking powder and salt. Stir until smooth.
Lightly spray an 8x8 baking dish with non-stick spray. Spread batter evenly in pan and bake for 15 minutes. Let cool and slice into bars. If desired, dust with 2g powdered sugar. Refrigerate bars for up to 3 days.
Macros
Serving Size: 1 bar (35.5g each), Servings: 9
67 calories, 6.8g Protein, 4.3g Carbohydrates, 2.5g Fat