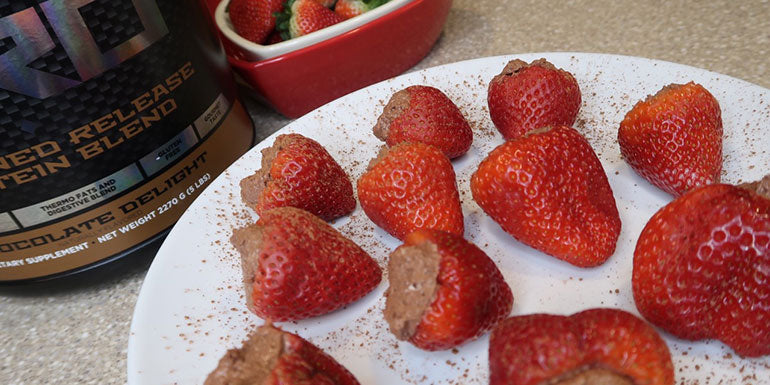 Everyone has heard of chocolate covered strawberries, but we crafted a protein mousse to stuff in the strawberries for a sweet bite. Not only will they taste amazing, but they will impress your sweetheart while preserving the gainzzz.
Ingredients:
21g (1/2 package) sugar free dry chocolate pudding mix
32.3g (1 scoop) Core Nutritionals PRO Chocolate Delight
30g Fage 0% greek yogurt
4T. (18g) fat free cool whip, slightly thawed
¼ cup skim milk (can sub non-dairy milk)
12 strawberries (about 2 cups), rinsed and cored
Directions:
Using a small paring knife, core the center of strawberries being careful not to poke a hole in the sides to create a hollow center.
In a small bowl, combine dry pudding mix, protein powder, greek yogurt, cool whip and milk. Stir until incorporated and fluffy. Fill each strawberry with approximately 14.4g of mousse. Dust with cocoa powder, if desired. Store in refrigerator, however strawberries are best if consumed immediately.
Macros
Serving Size: 1 filled strawberry
31 calories, 0.2g Fat, 4.6g Carbohydrates, 2.6g Protein
Directions: